Goods Lift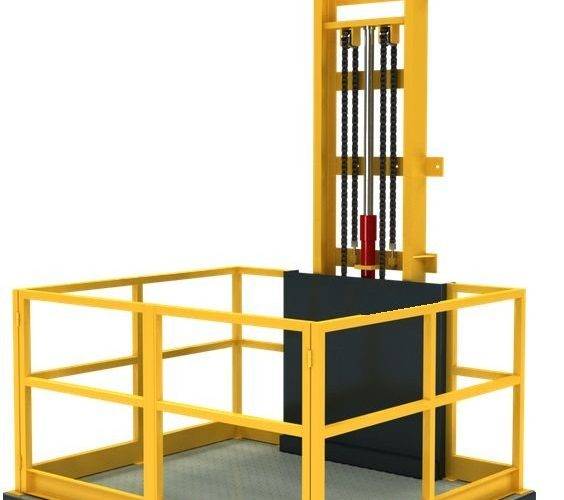 Lifting capacity up to 30 tons
Very little wear and tear as many parts operate in oil
The oil used is very long lasting.
In cases where a rope is used, there is no wear on the pulleys and ropes, since the role of the rope is not to lift the load with the help of friction.
Unlike elevators with electric drive pulleys, in hydraulic elevators the motor only works for going up, the engine does not work when going down.
No counterweight is used.
It is also preferred in terms of architecture as it does not need the engine room at the top.
It works very quietly. You cannot hear engine noise in buildings.
In case of power cut, there is an automatic return and recovery system without the need for an additional system.
It is safer in earthquake and fire.
Because of the engine room is downstairs, transportation is easy in the fire .
While the entire load of the elevator is carried above the well in other systems, the inertia force is less in hydraulic systems as the load is carried by the building foundation. In the event of an earthquake, the probability of major damage and injury is reduced by 90%.
Hydraulic elevators are our choice for villa type elevators, vehicle elevators and goods elevators.
Goods elevators also known cargo lift or freight elevator are used to transport goods and loads between floors such as factories, warehouses, and stores. They can be produced as hydraulic or electric motor driven according to criteria such as well type and cruising distance. Since the purpose of use is to carry heavy loads and goods, components such as cabin, door, machine-motor and hydraulic unit should be designed and projected to be suitable for load carrying and working under heavy conditions. According to the project to be made as a result of technical examinations such as building type, purpose of use, building traffic calculation, it may have a load carrying capacity between 630 kg and 22.000 kg, and a travel speed between 0.25 m/s and 2.0 m/s.
All of our elevators, which we have installed to be used in factories, warehouses or car parks, operate successfully under severe environmental conditions. Freight elevators are generally used in buildings serving a commercial purpose. It is possible to find different options for freight elevators, which provide great convenience for different business models, especially factories, warehouses and stores. These options are usually determined by the characteristics of the load to be transported, and in order to make the right choice, people need to determine exactly what they need before purchasing a goods elevator.
When it comes to cargo lift, one of the most important points is that the elevator is of appropriate width and height, as well as providing convenience during loading and unloading. This can be achieved by ensuring that the durability and design of the elevator is suitable for your load and building.
Hydraulic elevators are the elevator systems that its driving power relies on hydraulic pumping unit. Hydraulic elevators benefits from its own weight as moving downward. Generally machine rooms of hydraulic elevators are designed as being on the basement. There is an oil boiler, and above this boiler are hydraulic system, control panel and pipes which hydraulic liquid goes through.
---